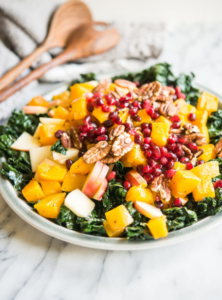 Fall cooking brings its own flavor of fun. Try some of these fall recipes !
This Harvest Butternut Squash Salad from Fed & Fit is dairy free, and it's the perfect fall side dish! A kale salad with roasted butternut squash, wilted kale with a tangy apple cider vinaigrette, and piled it high with butternut squash, apples, pomegranate seeds, and pecans.
It's soup season! Here are three soups definitely worth trying:
Instant Pot Chicken and Vegetable Soup
Danielle Walker always delivers, and this is a great one when anyone in your house is feeling under the weather. The bone broth is healing to the gut and anti-inflammatory. It's a great way to get protein and vegetables into your diet too.
This one may sound a little non-traditional, but it's a great one to make a big batch of because it's easy and it saves really well too! This recipe, also from Fed & Fit is the ideal one-pot meal because all you need to do is brown a little meat, add whatever vegetables strike your fancy, and then load it with some signature chili spices. With the addition of pumpkin, this chili recipe is a bit different from your usual chili, but will feed your body and soul just the same!
Tis' the season… for butternut squash. Served piping hot with a hunk of crusty bread, this creamy, nourishing butternut squash soup recipe is fall comfort food at its best.
… and if you're really feeling like embracing a full fall menu, try this Family-Style Fall Dinner from defined dish! Dijon crusted lamb chops, roasted root vegetable, and a simple side salad.
Let us know if you give any of these recipes a try, we'd love to hear what you think!